Johnny Lunchbucket is in the final mix. Cross your fingers, it will be out soon.

The December 4th show at Silvie's was filmed for our first live performance DVD.

Mike is volunteering at the Chicago History Museum.If you are planning a visit, ask for his schedule.

Did a forty minute interview and contributed a couple songs to Whiskey Bender Productions documentary on indie record stores.

We are aligned with the Poor People's Economic Human Rights Campaign http://economichumanrights.org/

Lost another good friend - LARRY TRACY -2009. We won't see another fella like that. I'm starting to miss folks daily. The Sooners will always have an empty seat in the stadium and I'll always be turning to it for a joke, advice or some unique perspective on the world.

Julius Margolin, labor activist and folk singer passed from our world 8/24/2009. It'll all be harder without him.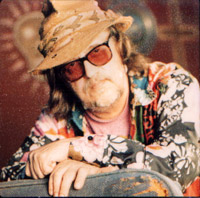 *****
Jim Dickinson Passes
The unretainable nature of the present creates in Man a desire to capture the moment. Our fears of extinction compel us to record- to re-create- the ritual ceremony. From the first hand-print cave painting to the most modern computer art, it is the human condition to seek immortality. Life is fleeting. Art is long. A record is a "totem," a document of an unique, unrepeatable event worthy of preservation and able to sustain historic life. The essence of the event is its soul. Record production is a subtle, covert activity. The producer is an invisible man. His role remains a mystery. During the recording process there is an energy field present in the studio- to manipulate and to maximize that presence- to focus on the peculiar "harmony of the moment" is the job of the producer. Music has a spirit beyond the notes and rhythm. To foster that spirit and to cause it to flourish- to capture it at its peak is the producer's task.
*****
We lost LES PAUL too.
My Dad used to work at the Lyon & Healy music store in downtown Chicago. He worked there before the war (he had to pay for a hernia surgery before he could enlist) and after he got back. He was a salesman and didn't care too much about music. He liked putting things together. he was a photographer and a ham radio operator. He built a helluva Lionel train set for me with rat tail plugs that controlled the entire thing through one master box. Later when he worked at Sears he made some lights that would pulsate to the beat of the stereos he was trying to sell and bitched about the morons who wanted to buy the lights instead. This was in the late 50's early 60's.
Les Paul would come in and somehow he struck up a friendship with my dad. They talked about electrical switches, capacitors and resistors. My Dad got into it and got a job with an outfit called Carling Switches. He remembered sending Les a bunch of things that he thought he could use. It was pretty secondary to him that Les played guitar.
They lost touch, of course.
When I started playing guitar and I started to play electric and wanted to buy an amplifier, my Dad said, "Let's make one!" I wasn't having any of that and went out and bought a Silvertone. That, my friends, is one of the biggest regrets of my life. I mourn that decision today as well as the passing of an extraordinary man.


*****
Wondering if this could be my great- grandfather....
HOW MANY CAN YOU DRAW KID?