SOLIDARITY WITH THE WORKING CLASS IN WISCONSIN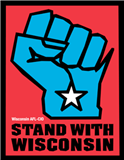 I was up in Madison over the weekend. Never thought I'd see regular working class people take to the streets, finally saying that they had enough.
I have a rich family history of folks who trusted in the promises and were totally screwed.
I remembered all the struggles and all the labor offered willingly and honestly as I marched. Thought of the Republic Steel Strike and the Hormel P-9 folks . I thought of my grand-daughter who relies on Badger Care and the Wisconsin Public School system. Her mother is an AFSCME worker. Their futures are not nostalgia.
Greedy workers? How about billionaires who just can't get enough and contribute no taxes and nothing to the public good?
It has been a long forty year slide. It is time to restore some of those "values" we talk about. It is time to restore some common morality to our public discouse.
Thank you to the people of Wisconsin.